RODLESS CYLINDERS
Our OPL Rodless Cylinders are available with diameters from 16mm to 80mm and maximum stroke lengths of up to 6mt. Built in anodised aluminum, they provide the installer the durability and rigidity needed in heavy duty applications. They're flexible corrosion resistant steel inner bands provide a near-zero-leakage sealing construction and guarantee minimal frictional losses. Available on demand in OPL-KF version with circular ball bearing guides.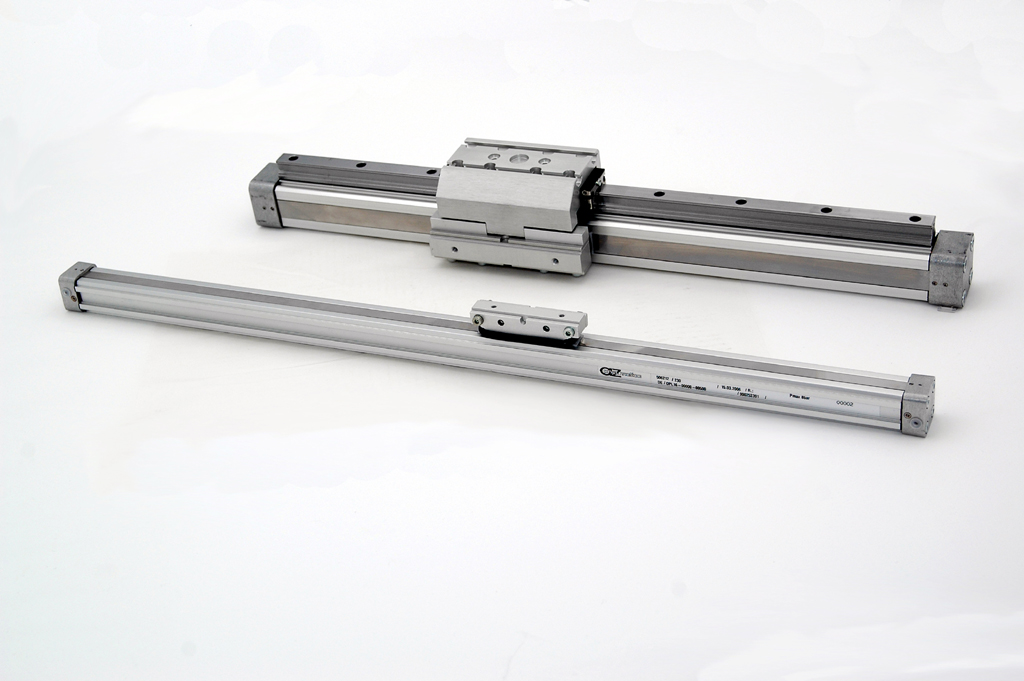 Overview
Our Rodless Cylinders have been designed to satisfy the application requirements of the automation control industry and enlist a vast array of features, such as:
BTP
Double Effect Return
Standard Magnetic
Special versions on request
Easy to Mount on multiple set-ups
OPL External Mounting Plate no guide
OPL-KF External Mounting Plate with guide
Specifications
AZ Rodless Cylinders are built with both internal and external belts in pure spring steel with anodised aluminum barrels. Aluminum pistons are fitted with synthetic bearing rings and house the internal magnet. A physical connection between the slot and the external mounting plate allows outwards power transmission. It's extremely reduced dimensions and fully threaded body makes it perfect for tight, space limiting, movements. A full range of accessories are also available.
For stroke lengths specifications and product assortment please see dedicated brochure. Available ranges from 32mm to 80mm.
Popular Questions
Do you ship outside of Massachusetts?
Yes, we do! AZ Pneumatica USA delivers both within the State of Mass and all other major US States!
Are your Products NPT or BTP?
As per International Convention, we only manufacture BTP cylinders.
Are the measures indicated in inches?
No, they're not!
Do you guys offer custom end-stroke lenghts?
Yes, we do 🙂
Are they interchangeable with other brands?
Of course, they are 🙂